Finance for your sector
Manufacturing Industry Finance
UK manufacturing is a bigger deal than some of the media might have you believe. However, it's not without its financial challenges – at Touch, we are experts in helping manufacturing business owners find the finance they deserve.
Manufacturing accounts for £275billion of UK exports and employs some 2.7million people, many of them in small and medium sized businesses like yours.
Get Started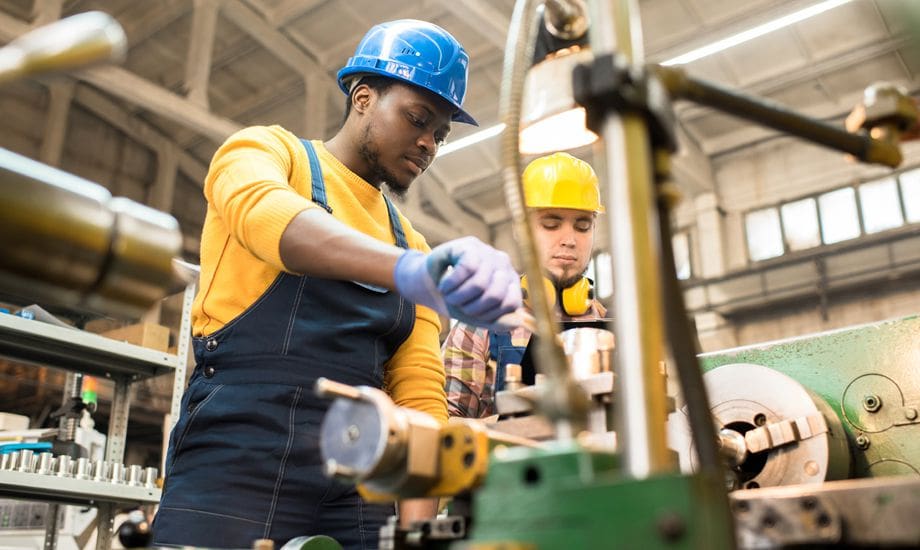 Financial challenges for manufacturers
Managing cash flow and dealing with late payment
Manufacturers are often required to allow customers time to settle their debts after the goods have been supplied, perhaps up to 30, 60 or even, in some cases, 120 days. When this is coupled with having already had to pay for raw materials, running costs and salaries, cash flow problems can arise.
Touch offers a number of solutions which may be able to help with these issues – from invoice finance to revolving credit facilities and business overdrafts.
Keeping up with technology and dealing with international competition
We all know that technology can make a manufacturing businesses more efficient and productive, giving a better chance of seeing off competition from overseas. But investing in new machinery, equipment and software can be costly – most smaller manufacturing firms don't have the cash saved in the bank to make those investments easily.
Touch can put you in touch with asset finance providers, or lenders who can extend loans secured against equipment or property, or even unsecured loans.
And don't forget about your Annual Investment Allowance – a recent survey from BDO shows many manufacturing firms fail to write off the cost of new machinery items against profits. It's particularly important now that the AIA limit has been raised to £1m (until January 2021).
Another way some manufacturers deal with international competition is to work with them – buying in part-made products and completing them locally. This raises its own financial challenges, some of which can be met with trade finance.
Filling the skills gap
Finding qualified and capable employees can be difficult. While the huge engineering and manufacturing companies may have strong connections with colleges providing them with a ready supply of labour, that's harder to do if you're a smaller business. Sometimes the answer lies in training existing staff or creating an apprenticeship scheme, but increasingly manufacturing firms are looking at automation and robotics – great for long-term efficiencies but expensive to set up.
Financial products for manufacturing firms
There is a range of financial products that are suitable for manufacturers, and we'd be happy to talk them through with you.
They include:
Asset based lending
This is simply a way of using your existing assets as leverage to bring cash into the business. Commonly used assets include:
Your receivables or invoices
We work with dozens of hand-picked invoice finance and factoring providers and can put you in touch with the most appropriate ones for your business. Many – but not all – factoring providers are manufacturing or engineering specialists. We'll help find the right one for you.
Plant and machinery
We have relationships with a number of finance providers who can unlock the value of your physical assets – for manufacturers this can typically amount to 25% of annual turnover.
Property
Lenders can secure finance based on your business or personal property.
Stock
This is often more likely to be used by suppliers to the manufacturing industry or distributors, but some manufacturers do carry significant levels of stock. Indeed we are seeing inventory levels increasing as order books are declining for manufacturers across the country.
Business loans
Business loans are typically unsecured or secured – unsecured business loans usually require a personal guarantee, whereas secured loans are secured against property (or other high value assets).
Revolving credit facilities and overdraft replacements
Useful cash flow management tools, overdraft replacements (often called revolving credit facilities or business advances) work just like a bank overdraft. Money is drawn down from a pre-agreed credit limit and interest is charged daily until it is paid back. Credit limits are usually based on business turnover.
Get in touch
Knowing which lenders are best suited to the construction industry could require a lot of research, but Touch is an expert at finding which ones can offer suitable financial solutions for construction companies. After a brief chat to understand your needs, our expert consultants will put you in touch with up to three funders to help you on your way to getting the finance you deserve. Give us a call today on 0207 001 9142 or complete our form to get started.
Get Started Now
Complete our quick form and we will be in touch to provide free, no obligation, impartial information about funding options from over 35 lenders.
By submitting your details for us to get in touch, you agree that you have read and understood our Terms and Privacy Policy.
The service is brilliant.
The allocated adviser was brilliant, he went over the board to assist me where I was having difficulties and was able to explain things clearly while giving me a choice through out the process.
The team were patient with me and I appreciate their professional responses how ever trivial my questions seemed.
Professional Advice – Invaluable & Expert's Knowledge
Jacob got in touch with us after the Initial enquiry… He has provided a quick & excellent advice with the available options based on our situation.
We found him truly connected in the market & was always helpful in providing the relevant information. 
I thought the service provided was excellent. It was my first time using an invoice factoring service for my business and I was given some really helpful information. I was put in touch with 3 separate companies that all offered a slightly different solution. I chose one company that best suited my business needs, and I am happy to say the service is all setup and in use which has helped by business get a big contract off the ground. Touch financial where there through the whole process with …
Excellent customer service
Having recently had a very stressful time with another financial company. The service we have received from Mark at Touch Financial has been excellent . Regular communication, and very good customer service. Highly recommend
Trusted by customers and industry