How to Guides
How To Write an Invoice
Even if you've been sending invoices out for years as a well established business, it's worth doing a little refresher to make sure you are including all the right information. We're here to give you a quick step-by-step on what to include whether you're an invoicing veteran or writing an invoice for the very first time.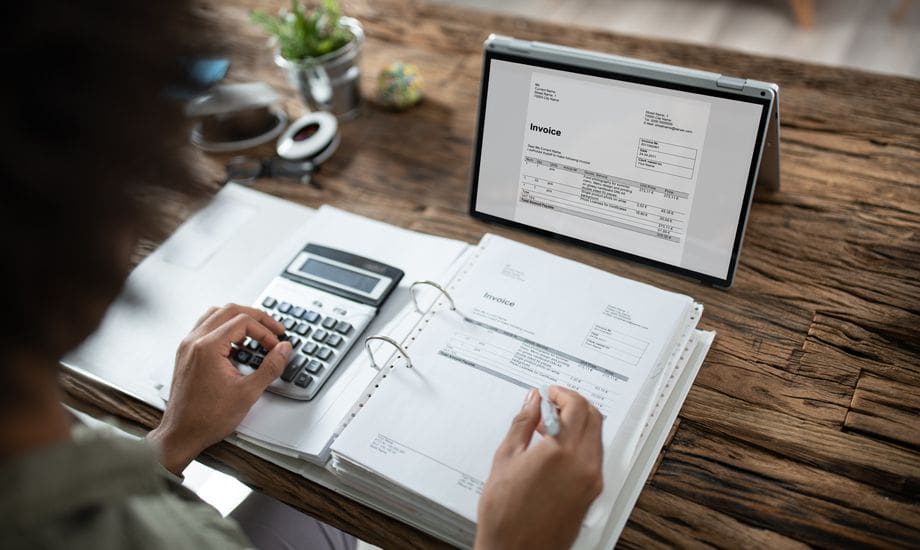 Before we dive into the various sections your invoice needs, remember to always label your invoice documents as invoices. Aside from being a recommendation from gov.uk, it's always a good idea to label your documents. And to make sure your customer is expecting an invoice!
What to include on your invoices
Your company name and logo
Okay, so this one seems obvious but it's easily forgotten when you're focused on getting the monetary amounts correct later on. Make sure to include your company's name and logo to keep your invoices personalised and professional.
Contact details for you and your customer
It seems like this should go hand in hand with the obviousness of step one, but include your company's contact information as well as those of your customer.
This includes the company's name, business address, and the phone and/or email of the person for whom the invoice is intended. Don't forget to put your own number and email on too, just in case your customer needs to get in touch.
If you're a limited company and you put the names of your directors on the invoice, you must include all directors' names.
An invoice number
To help you keep track of the invoices you send out, having a numbering system is essential. If a dispute of any kind crops up, you should be able to easily identify what invoice has been sent and where thanks to your invoice numbers. There is no set 'right' way to create a numbering system – it can be any string of letters and numbers that you like, so long as you know what sequence you're following.
You could go sequentially with a code such as INV0001, INV0002 etc. or create a specific customer code that changes per customer, e.g. TOUCH0001, SFPGR0001.
To really keep it simple, you can just use the date: 01-2020-0001 for the first invoice you sent in January 2020, for example. In this vein, 02-2020-0003 would be the third you sent in February 2020 and so on. It really is up to you how you do it, so long as you're consistent!
Dates
This is another super important one – as well as dating your invoice on the day you're issuing, you've also got to include the date the payment is due by. It's a good idea to make the due date as prominent and readable as possible, perhaps by bolding it up.
Payment terms
As well as including the payment date as above, it's also useful to include information on how the payment ought to be made when it comes due. This could be a BACS transfer, credit card payment, or even a cheque. Just make sure it's down in writing!
Breakdown of job and costs
This will make up the bulk of your invoice body. Detail the job or service you've provided, how much each aspect cost, and collate them into a sub total. If necessary, write on extra costs or any discounts as applicable.
Ensure the description of the work is as detailed as possible so that there isn't any confusion or dispute down the line from your customer as to what they're paying for. This includes filling in the quantities and individual totals.
Anything else?
As well as all the above, there are a few extras to include depending if you're a sole trader or a limited company. Sole traders must include their full name and any business name that is in use, and an address where you will be able to receive any legal documents under your business name. Limited companies must include the full company name how it appears on the certificate of incorporation.
If you and your customer are VAT registered, according to gov.uk you must use VAT invoices which include more information than general invoices.
Invoice finance
As a business that invoices customers for payment, you are in a good position to consider financing those invoices. Rather than waiting out the full payment terms, receive a majority of the amount in advance once you enter into a financing facility. We're a specialist invoice finance broker so talk to us if you'd like to explore this option for your business. You can also read more about the different types of invoice finance here.
Get Started Now
Complete our quick form and we will be in touch to provide free, no obligation, impartial information about funding options from over 35 lenders.
By submitting your details for us to get in touch, you agree that you have read and understood our Terms and Privacy Policy.
I thought the service provided was excellent. It was my first time using an invoice factoring service for my business and I was given some really helpful information. I was put in touch with 3 separate companies that all offered a slightly different solution. I chose one company that best suited my business needs, and I am happy to say the service is all setup and in use which has helped by business get a big contract off the ground. Touch financial where there through the whole process with …
5 Star
Jacob was a pleasure to deal with, understood my needs quickly and made great recommendations based on this. Kept in contact but didn't pester me. Was always available when I had questions. Couldn't recommend enough
Fast Efficient Service
Thanks to Mark, it was a very fast solution to my cash flow problem
Trusted by customers and industry