Merchant Cash Advance
Merchant cash advances are a convenient form of funding for businesses who take payment by credit and debit cards.
Money is advanced to your business based on your card terminal revenues. You then repay automatically as a small percentage of future revenues.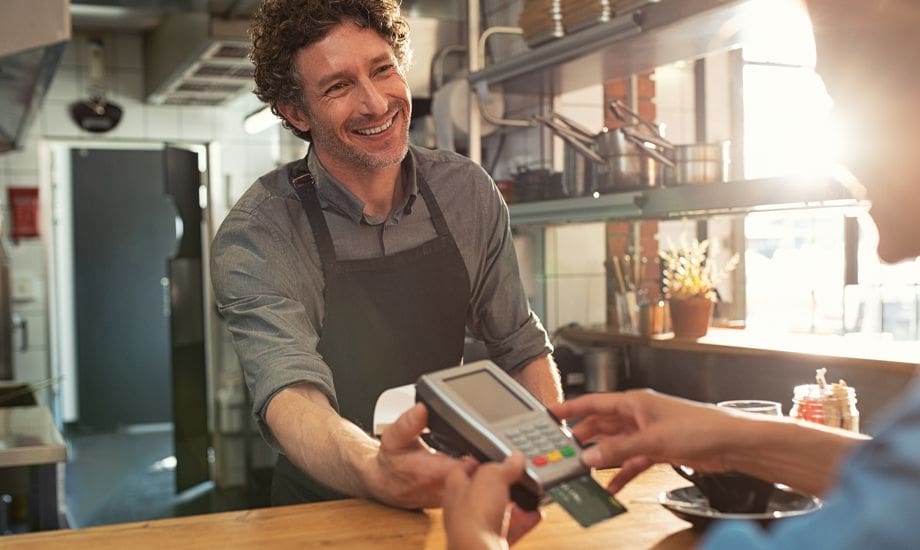 A merchant cash advance is a form of unsecured business finance. However, unlike a loan, it typically attracts a set-up fee instead of monthly interest.
Repayment is made from card machine revenues, so is dependent on your turnover. This means you pay more when takings are higher. You also don't have a set repayment period.
Note that some providers call it a Business Cash Advance or simply a Cash Advance.
How Merchant Cash Advances Work
A merchant cash advance provider will investigate your current revenues from your card terminal machine. (Note you might refer to this as a PDQ, PoS terminal, or Chip and Pin machine.)
If agreement is reached, they will advance an amount to you often equivalent to around a month's revenue.
Repayments are made at a pre-arranged percentage of future card revenues. You'll continue to pay until the full amount and any pre-arranged fees are paid back.
The percentage of each card transaction you pay back (the 'split') is negotiable. However, it is usually between 10% and 20%.
Three simple steps to accessing a merchant cash advance
1. Find your provider
Simply contact our consultants with your requirements and we'll discuss your business. From there, we aim to match you with two or three suitable providers. We'll also let you know what documents you will need to provide.
2. Fast application
Once the necessary documents are gathered and application is processed, you'll be a step closer to receiving a decision.
3. Receive Your Funds
Your application can be processed and accepted in as little as 24 hours and you'll receive the lump sum straight into your bank account.
Cash advance costs
Unlike with a business loan, repayment for a merchant cash advance doesn't have ongoing interest. Instead, typically, funders will add a fee based on the factor rate to the advance amount.
The factor rate is dependent on a number of things including:
How much you need to borrow
The projected pay-back time
The risk factor of your business
Mostly, factor rates vary from around 1% to 1.5%.
So if you are looking for a £10,000 advance with a factor rate of 1.3%, you would pay back £13,000. This doesn't increase if repayment takes longer than anticipated.
Providers may have additional fees as well depending on their policies and your circumstances. We can talk you through these fees and options.
Advantages and disadvantages
Where your business finances are concerned, it's always best to consider all options before taking proceeding. Here's a few of the pros and cons attached to a merchant cash advance.
Advantages
Disadvantages
Merchant cash advance eligibility
Most businesses that use a card machine to process customer sales could be eligible for a merchant cash advance. You normally need to demonstrate a relatively consistent level of monthly cash inflow. Typically, six months of card payment statements will suffice.
If your business has a high volume of monthly card transactions, a cash advance could be a good fit. Typical business types include:
Hotels, restaurants, bars and cafes
Retailers, including online retailers
Hair and beauty salons
Automotive servicing and MOT garages
Some people feel that merchant cash advances are only for small businesses. However, as factor rates have become lower and advances higher, they have become suitable for many larger businesses too.
The minimum card revenues for a cash advance are around £3,000 per month.
There are various ways in which you could use your merchant cash advance, like store improvements, obtaining new equipment, boosting your inventory or cash flow or even managing debt payments. Whatever you need it for, merchant cash advances could be the financing tool for your business.
Alternative financing
If your company doesn't match the eligibility requirements for a merchant cash advance, there are other ways you can finance your business to improve cash flow. Invoice financing is a popular method, involving advancing value of invoices due.
For longer term finance, perhaps to acquire equipment or machinery for your business, asset finance is a good avenue to explore. You could also consider an overdraft replacement.
Get in touch
Call us or fill in our form and one of our expert consultants can help you quickly determine your eligibility for a merchant cash advance and get your application quickly underway.
Don't just take our word for it, listen to how our customers rated us excellent on TrustPilot