What Is Cash Flow?
Cash flow is a term used for the net amount of money that comes into and out of your business on a regular basis. It probably goes without saying, but a positive cash flow situation is the ideal.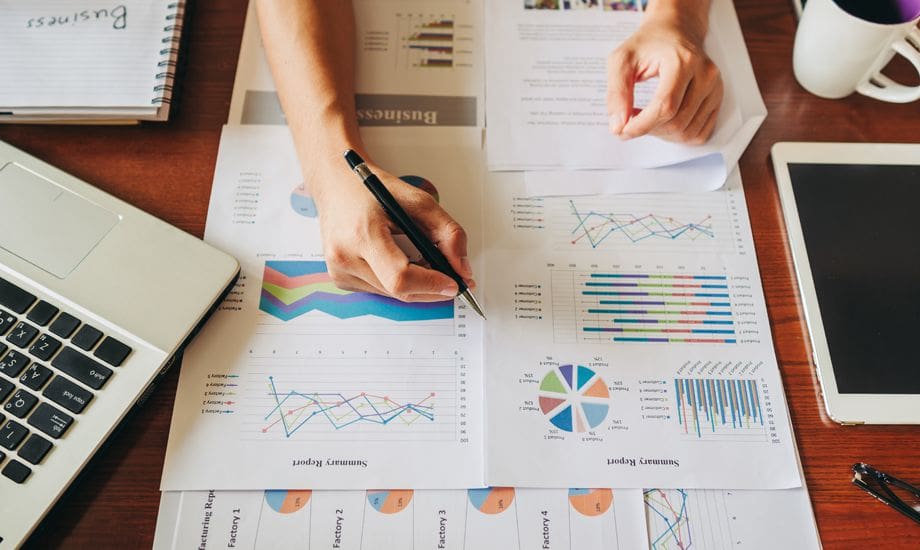 This means that you have more money coming in than going out, keeping you secure and able to spend where necessary without worry.
However, if you do find yourself in a negative cash flow situation, it doesn't necessarily mean the end of the line. For example, it could be because you're constantly waiting for invoice payments to come in and the lengthy terms keep you out of pocket. If this is the case, then invoice financing is an option to help you get your cash flowing again.
To work out what your net cash flow is in any given month, subtract the sum of your cash payments from your total cash receipts. Comparatively, a month is a short time in business terms so a more accurate representation of your situation will probably come from analysing a period of a few months, three or more. This will take into account any monthly peaks or troughs and your result will be more evened out.
Why is cash flow important?
Cash flow issues are often the number one cause for small businesses failing, and they will also become a large barrier against company growth if not dealt with.
As it differs to turnover, understanding the cash flow of your business will give you a better understanding of how well your business is doing as a whole. If your turnover is high it might seem like your business is thriving but it's your cash flow position that really shows you.
Particularly for new businesses, getting to grips with cash flow problems is tricky. There are often more expenses associated with starting up and these can quickly add up to much more money flowing out than coming in. Coupled with still building a customer base and perfecting payment terms, it's crucial to recognise when is a good time to source cash from elsewhere, even on a temporary basis.
Many new companies apply for revolving credit or business overdrafts, or even unsecured business loans.
What is a cash flow statement?
Whether or not you're required to have one as part of your financial reporting, a cash flow statement is a really useful document to create and have on hand. With it, you'll be able to manage how cash flows through your business. The statement can look similar to a P&L and will enable you to keep an eye on your expenditure and receipts as you go along.
Here's a mock up of a very simple statement: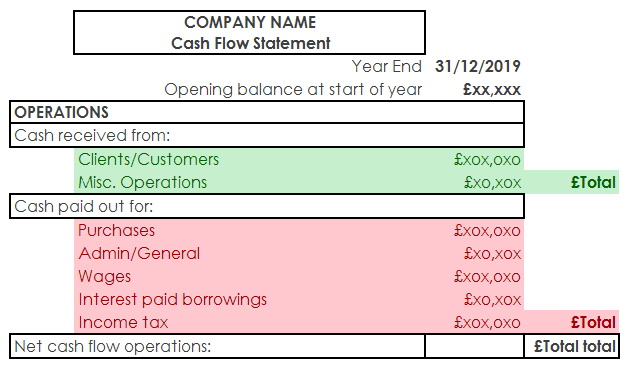 This one only shows operations costs, so to get an idea of overall business cash flow you can include separate sections for company investments (like property purchases) and other miscellaneous finance that could include any loans taken out and repayments made.
With all of these in your statement, you can add/subtract from your initial balance at the beginning of the time period to find out your total net balance.
Seasonal impact on cash flow
If your business experiences seasonal highs and lows, this can adversely affect cash flow if not prepared for. Often, costs throughout the year will remain the same and not line up with the increased demand for your product or service. Rent, for example, is a steady cost per month so during a seasonal high you may find that you have no problem paying while also affording other miscellaneous costs. But if you don't look forward to those months where sales are likely to drop, you might end up with your costs dictating your cash flow rather than the other way around.
How can cash flow be improved?
To keep your business running effectively and your cash flowing, you could explore some alternative financing options. As mentioned above, invoice finance is a popular method of advancing cash owed to you without having to wait out the full payment terms of your invoices. Invoice finance comes in two forms; factoring and discounting. Keep in mind, however, this is not available to use on invoices that are past due as these are considered bad debt and cannot be advanced.
A merchant cash advance can be very helpful if your payments come via card machine, and is a popular method of funding for seasonal businesses. Otherwise, beginning a line of revolving credit can be a useful solution for many types of business.
Get Started Now
Complete our quick form and we will be in touch to provide free, no obligation, impartial information about funding options from over 25 lenders.
By submitting your details for us to get in touch, you agree that you have read and understood our Terms and Privacy Policy.
Don't just take our word for it, listen to how our customers rated us excellent on TrustPilot